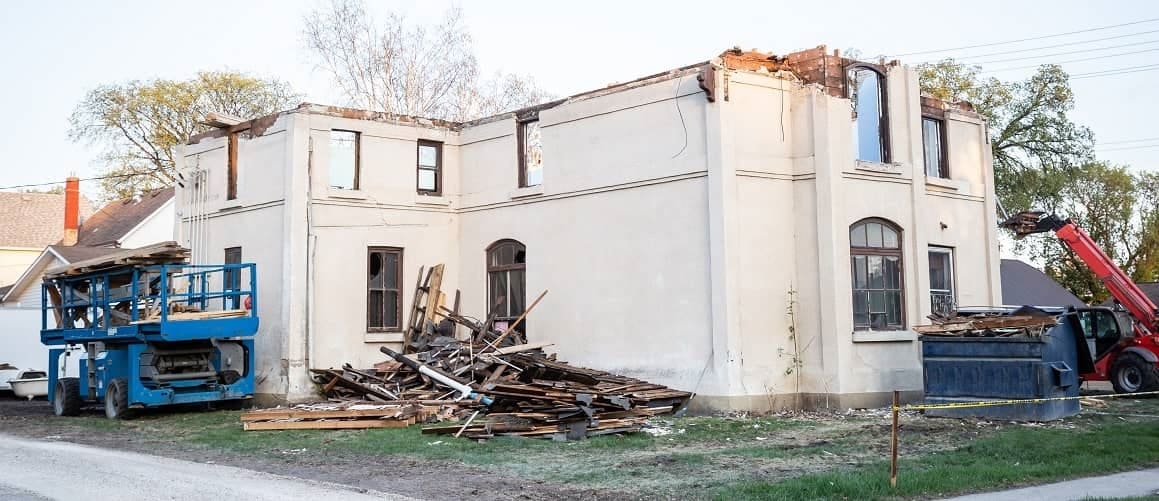 House Demolition: Cost And Process
Andrew Dehan8-minute read
February 20, 2023
Share:
There may come a time where it makes more sense to knock down a property and start over. If you're considering house demolition, you've come to the right place. Whether you're exploring your options or already have a good tear-down candidate, we've got the information to help you make your demolition decision.
Read on to learn when demolishing makes sense and how to demolish a house.
When Does House Demolition Make Sense?
There are a couple scenarios where demolishing a house is a better option than repairing or remodeling a home. The first scenario is if the house has major structural issues. Problems like a faulty foundation, fire or water damage or a pest or mold problem are not easily solved. Sometimes it's more financially viable to tear it down and build a new house.
The other scenario is if more qualitative attributes, like the home's size, make it worth less than other homes in the area with the same size lot. Maybe a combination of the home's age and diminutive size make it more appealing to start fresh.
Some people tear down homes they've lived in for years. Usually, though, it comes from people in the property investment game. If you're considering house flipping, be meticulous in factoring in the cost of demolition. Perform a careful ARV (after repair value) analysis before committing to the property or the demolition.
See What You Qualify For
Congratulations! Based on the information you have provided, you are eligible to continue your home loan process online with Rocket Mortgage.
If a sign-in page does not automatically pop up in a new tab, click here
Cost To Demolish A House
It's best to estimate the cost to demolish a house on a square footage basis. However, there are other factors that will affect the total cost.
Ray Brosnan of Brosnan Property Solutions says, "The costs for demolishing a house differ greatly, but for a 1,500 square foot home, you're probably looking at $10,500 - $12,000. Most professionals charge by the square foot, but these costs can increase if it's found that your house contains toxic building materials like asbestos or even just the formation of mold over the years."
Another factor to consider is whether you're demolishing a basement. If you are, Brosnan says, "Your price will increase again significantly, probably looking at more in the region of $18,000 - $20,000."
And after spending the money to tear down the home, you'll need to replace it. Selling vacant land can be difficult and, compared to selling a new home, isn't always profitable.
If you're wondering what an average estimate is for demolishing specific areas, Peter Murray of Murray Steel Buildings broke it down for us:
| | |
| --- | --- |
| Area For Demolition | Range Of Cost |
| Patio/Deck | $40 - $50 per square foot |
| Bathroom | $500 - $1,000 |
| Driveway | $1,000 - $3,000 |
| Foundation | $3,000 - $7,000 |
How To Demolish A House With A Contractor
Contact Your Lender
If you owe money on your house, you should contact your lender. You'll need approval from your lender before proceeding. Not only do they need to know of the planned demolition, but they could help you secure a construction loan for rebuilding or renovation. Rocket Mortgage® does not offer construction loans.
Find A Good Contractor
A good contractor is important to find. The first step should be to ask your family, friends, coworkers and neighbors for referrals. They may be able to give you a recommendation on who (or who not) to hire.
Online reviews are another place to go, especially if you don't have any referrals. Along with sites like Google or Yelp where people leave reviews, check with the Better Business Bureau. Search a company's name followed by "complaint" or "rip-off" to see what comes up.
After you have a few prospects, get written estimates for the scope of the demolition. Ask questions about the differences in cost and in details. If estimates are very different, don't be afraid to ask one contractor why their estimate is different from another's.
Remember, you're interviewing each of these contractors for the job. You should ask about their experience with similar projects. You should also ask for references. If they're hesitant to answer your questions or give you references, that's a red flag and you should look elsewhere.
Bring In A Home Inspector
A pre-demolition inspection will help you determine what issues the property may have that need to be addressed before demolition. While similar to a typical home inspection, the reasoning for a pre-demolition inspection is different.
If the inspector finds something like asbestos, mold or lead pipes, you can start looking for bidders who handle those issues frequently and who can do it at a lower cost. Finding contractors to take care of environmental issues before demolition can give you more control and be more cost effective than having the demolition crew do it.
A good inspector will also know state and local regulations about disposal of hazardous materials like asbestos tiles and vinyl siding. They will help you with what needs to be removed and disposed before demolition as well as what permits need to be applied for.
Secure A Permit
You'll need a permit with your local county to demolish your home. Most licensed contractors will secure a permit and file it for you. Different regulations in different localities must be met. These laws are there to protect the community and its infrastructure. Failure to secure a permit and meet regulations could result in a fine and your contractor losing their license.
Speak With Neighbors
Letting the neighbors know what's going to happen is a good call. Lean into what's good about the demolition – you're building a new home that will look better and likely increase their property value.
Notifying them of the noise and dust ahead of time is a good way to stay on their good side.
Disconnect Utilities
Contact your gas, electrical and water providers to make sure all services are shut off and safely capped. They'll probably send technicians to the house to do this.
Work with the contractor to see when the best time to disconnect electricity will be as they may need to use it for tools to partially dismantle the house.
What's The Cheapest Way To Demolish A House?
When looking at cost, you also need to consider risk. Doing a DIY demolition could be much cheaper than hiring a contractor. However, if you make a mistake, you won't have the experience or the resources to fall back on. What happens if you damage the neighbor's property or hit a sewer line? A contractor has more experience and is less risky.
If cost is a factor, you may want to consider pulling the most valuable components out of the home. Things like hardwoods and copper pipes have value and can be sold or scrapped if you have the time and skill to remove them. Appliances and fixtures can also be salvaged and sold, especially if they're high quality.
How To Demolish A House Through DIY
If you want to demolish the house yourself, all the above steps (besides hiring a contractor) still apply. DIY demolition is not for the faint of heart. It can be a lot of work and may require you to operate heavy machinery.
But if you're confident, let's talk about what you need to do to get this house torn down.
Rent A Dumpster
Unless you own a dump truck, you're going to need to pay someone to haul away all the debris. It's likely you'll need at least one 40-yard dumpster, if not more. The size and number of dumpsters you need will depend on how large the home is.
Contact a few area dumpster rental companies to see what they recommend for your house and how much they charge.
Secure Key Tools
If you're choosing to disassemble by hand in full or partially, you'll need some key tools. Here are some examples of what will be helpful:
Sledgehammer
Clawhammer
Crowbar
Pry bar
Nail puller
Chisel
Power drill
Hammer drill
Shovel
Reciprocating saw
Circular saw
Basic hand tools (pliers, screwdrivers, hammer, utility knife, etc.)
If you're working in a house with disconnected electrical, you're also going to need a generator or batteries to power lights and power tools.
Secure Safety Gear
Debris can be dangerous, especially when you're using tools to demolish something. It can fall on your head, fly into your eye or be breathed into your lungs. Here's the gear you'll need to help protect yourself:
Safety glasses
Ear protection
Work gloves
Hard hat
Ventilation mask
Work boots with a safety toe
Secure Heavy Equipment
Using heavy equipment is the cheapest and quickest way to demolish a home. Renting a jackhammer will save you a lot of time and backache over trying to break up a foundation by hand.
If you're curious about using a skid steer (like a Bobcat®) or excavator, some states require you to be licensed or temporarily permitted to operate them. You'll need to contact your local heavy equipment rental place to see if they offer training and whether you need to be permitted or licensed.
Remove Doors, Frames And Flooring
Start the demolition project by removing all doors, windows and frames. Using a driver, take the doors off the hinges and haul them to the dumpster. Use a pry bar to remove door frames.
For windows, on the inside, score around the window casing with a utility knife. Use a hammer and chisel to separate the casing from the wall. Outside, use a pry bar to pry away siding and get to where the window is nailed in. Pull out the nails and remove the window.
How you remove flooring depends on the type of flooring. While carpets and vinyl can be easily cut and pulled up, hardwood flooring and tile will take more elbow grease. Especially if you want to salvage pieces, research the best ways to remove the type of flooring you have.
Deconstruct The Bathrooms, Kitchen, Utility And Laundry Rooms
Before you start pulling out appliances and fixtures, you need to shut off and disconnect the electrical, gas and water to these areas if you haven't already disconnected them to the whole house. The last thing you want is a water mess or a shocking surprise trip to the hospital.
Start deconstructing these rooms by disconnecting and removing all appliances. The obvious ones, like your oven, refrigerator, washer and dryer will be the easiest to pull out. It may take more work to remove your furnace, hot water heater and dishwasher.
After you've got your appliances out, you need to remove fixtures. The bathtubs, showers, lights, sinks and cabinets all need to be pulled out and either trashed or salvaged.
Begin Heavy Duty Demolition
Once you've got the important pieces pulled out, it's time to demolish. Even with heavy equipment, this can be a long process, taking a day or more depending on the size of the house.
If you don't feel comfortable operating heavy-duty machinery, especially for a larger home with multiple floors, now is the time to rethink hiring a professional.
While this is no means exhaustive, here are the basic steps to doing it yourself:
Cave the roof in on itself using an excavator.
Push all walls inward.
Move the debris into the dumpster.
Break up the foundation and dump it.
The Bottom Line: With Careful Planning, House Demolition Can Pay Off
Before going the demolition route, you need to run a careful analysis on whether doing so will turn a profit and be a good investment. Hiring a professional contractor can be expensive, but demolition is time-consuming, especially if you're inexperienced.
If you're going to take it on yourself, be aware of what that entails. Demolition is hard work, and you may need extra training and permitting to operate heavy machinery.
While Rocket Mortgage doesn't offer construction loans, we can help you turn that construction loan into a mortgage once your new home is complete. Contact a mortgage expert today about financing options.
Get approved to refinance.
See expert-recommended refinance options and customize them to fit your budget.
Related Resources
Viewing 1 - 3 of 3