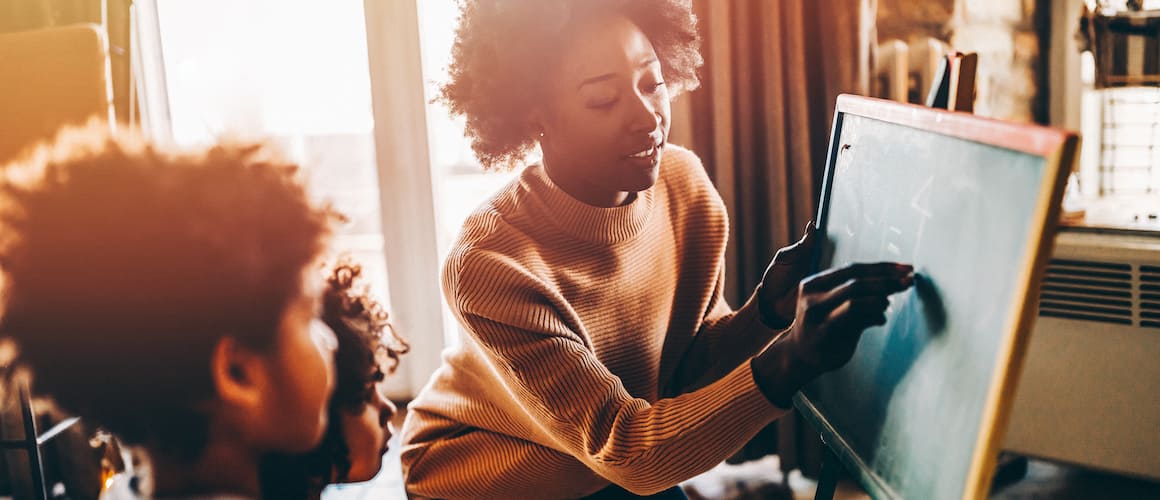 The Good Neighbor Next Door Program: A Guide
Molly Grace4-minute read
September 19, 2022
Share:
If you work in certain public service jobs and are looking for assistance buying a home, you might consider the Good Neighbor Next Door (GNND) program. This program helps teachers, firefighters and emergency technicians buy eligible properties for a steep discount.
The only downside is that the inventory is extremely limited. This article will go over everything you need to know about GNND and how you can qualify. It's important to note that while Rocket Mortgage® does not participate in GNND, we want to provide valuable information to those interested in the program.
What Is The Good Neighbor Next Door (GNND) Program?
GNND is a program offered by the U.S. Department of Housing and Urban Development (HUD) that allows individuals who work in specific public service jobs to purchase qualified homes at a discount.
Eligible public service jobs include:
Law enforcement officers

Firefighters

Emergency medical technicians (EMTs)
The program is also sometimes referred to as the Teacher Next Door or Officer Next Door program. If you qualify for GNND, you can buy HUD homes in revitalization areas at a 50% discount.
A HUD home is a single-family home purchased initially using an FHA loan and acquired by the HUD due to foreclosure. The goal of GNND is to strengthen communities and encourage homeownership.
Get approved to buy a home.
Rocket Mortgage® lets you get to house hunting sooner.
How Does The Good Neighbor Next Door Program Work?
If you're hoping to participate in GNND, you can only buy homes in economically distressed communities known as revitalization areas. There are three criteria used to designate a revitalization area:
Homeownership rate

The number of FHA mortgages in foreclosure
Anyone can purchase a HUD home, but when you participate in the GNND program, you'll get a 50% discount on the list price. These homes are usually priced to sell, so the discount means you can buy a home at an incredibly low price.
Let's look at the steps you'll take to apply for the program. It's always a good idea to get preapproved for a mortgage before you start looking. That way, when you find the home you want, you can act quickly.
Visit HUD Home Store
If you're interested in GNND, the first step is to visit the HUD Home Store. From there, you can begin searching in the revitalization areas where you work.
Find A HUD Approved Agent
Once you've found a home you're interested in buying, you must contact a HUD-approved broker. This information is usually provided in the listing.
Make A Bid
Once you find a home you want to buy, it's a good idea to act quickly. All HUD homes go into a 7-day bidding process. When you put your bid in, you'll also have to put down earnest money to show you're serious about buying the home.
Take On A HUD Silent Second Mortgage
If you win your bid, you'll take out a silent second mortgage through HUD. As long as you fulfill the occupancy requirements, you won't have to pay for the second mortgage. Once you've been in the home for 3 years, you'll be released from the second mortgage.
Live In The Home
When you purchase a home through GNND, you agree to live in the house for at least 3 years. You're required to certify that the home is your primary residence every year until you've fulfilled your requirements.
Who Qualifies For The Good Neighbor Next Door Program?
To qualify for the HUD Good Neighbor Next Door program, you must work in a qualifying public service profession. You also have to service the area where your GNND home is located. For example, teachers must purchase a home within the school district where they work.
In addition, you must be employed full-time and plan to remain in that profession for at least a year after closing on the home. And you can only purchase a GNND home once.
Public Servant
Here are the public servant professions that qualify for GNND:
Teachers:

Teachers who work for a state-accredited public or private school that serves students in grades pre-K through 12.

Law enforcement officers:

Law enforcement officers who are employed by a federal, state, local or tribal law enforcement agency.

Firefighters:

Firefighters who are employed by a federal, state, local or tribal fire department.

EMTs:

EMTs who are employed by a federal, state, local or tribal emergency medical service responder unit.
Type Of Mortgage
You can use any type of mortgage to buy a HUD home, but many lenders don't work with the program. Some lenders don't like financing a program with a silent second mortgage because it's risky.
If you default on the loan, the lender will have a harder time recouping their losses. The HUD can provide the information for lenders that will participate. Rocket Mortgage does not participate.
Credit Score, DTI, And Down Payment Required
This program lets you purchase any home on the market, and you can receive grants and down payment assistance. The government backs FHA loans, so they're less risky for lenders.
Haven't Owned A Home In The Previous Year
You cannot purchase a GNND home if you've owned a home in the previous year.
Pros Of Good Neighbor Next Door
If you meet the eligibility requirements, there are a lot of benefits to buying a house through GNND.
Deep Discount
HUD houses are already priced to sell and offered at steep discounts. But if you purchase the home through GNND, you'll receive an additional 50% off if you live there for at least 3 years.
Home Equity
Once the 3-year owner-occupancy requirement is met, the silent second mortgage is lifted. At that point, any home equity goes to the homeowner.
This low loan-to-value ratio means you're well-positioned to refinance the home. You can change your monthly mortgage payment, take cash out, or remove your FHA mortgage insurance premium (MIP) by refinancing.
Closing Costs
Closing costs typically cost 1% – 5% of the home's total price, and they're due when you close on your home. However, GNND buyers can finance their closing costs through their FHA mortgage.
Future Investment Property
Once you've lived in the home as your primary residence for 3 years, you're free to leave. You can either sell the house or keep it as a rental property.
Cons Of Good Neighbor Next Door
Here are some downsides to consider before participating in GNND.
Low Inventory
The GNND program has minimal inventory, and there are typically only a handful of GNND homes available in the U.S. These restrictions make the program difficult to break into.
Limited Geographic Areas
In addition to limited inventory, you can only buy a HUD home within a revitalization area where you work. This further limits your options.
Houses In Poor Condition
HUD homes are sold as-is, which means that the house may need major repairs. So, if you're looking for a move-in ready home, HUD homes may not be the best option for you. However, you can apply for an FHA 203(k) loan to renovate your home before moving in. Rocket Mortgage does not offer FHA 203(k) loans.
Alternatives To Good Neighbor Next Door
Given the low inventory and stringent requirements, not everyone will qualify for the Good Neighbor program. If you're not sure whether the GNND program is the best fit, let's look at some alternatives you can consider.
Teacher Next Door
Though the program was initially geared toward teachers, it's expanded to include other public servants. That includes:
School employees and administrators

Nurses and healthcare workers

Law enforcement officers and support staff

Firefighters and EMTs

Government employees

Active-duty military and vets
This program lets you purchase any home on the market, and you can receive grants and down payment assistance.
Heroes Next Door
There are several different Homes For Heroes programs available. For instance, one is a not-for-profit that gives houses to disabled veterans. Another focuses on helping public servants and first responders find favorable loans and grants.
HomeReady Or Home Possible
If you want to buy a home but can't make a 20% down payment, you may qualify for either the HomeReady or Home Possible program. HomeReady mortgages are financed through Fannie Mae and help low to moderate-income borrowers buy a home. The program reduces the down payment and mortgages insurance requirements.
The Home Possible program is backed by Freddie Mac and is similar to the HomeReady program. However, the Home Possible program has higher credit requirements to qualify.
First-Time Home Buyers Assistance Programs
In addition, there are many programs available for first-time home buyers. You could qualify for down payment assistance, tax deductions or closing assistance. And borrowers with poor credit could qualify for government-backed loans.
Good Neighbor Next Door FAQs
What is a HUD revitalization area?
A revitalization area is a HUD-designated area authorized by Congress under the National Housing Act. These areas are determined by household income, homeownership rate, and the number of foreclosures on FHA mortgages.
How does the HUD $100 down program work?
If you're looking to buy a home in Florida, you might consider the HUD $100 down program. When you finance a HUD home with an FHA loan, you can pay as little as $100 toward your down payment.
How do I win a HUD bid?
If you're planning to bid on a HUD home, you should work with a real estate agent who is familiar with the bidding process. They can recommend a bidding strategy, so you're more likely to win your bid without over-bidding.
The Bottom Line: Good Neighbor Next Door Is One Route To Your Next Home
Good Neighbor Next Door is a great program if you can take advantage of it. However, that's a big "if" given the low home inventory. If you're looking for help buying a home, be sure to check out other affordable housing programs.
Find out what you can afford.
Use Rocket Mortgage® to see your maximum home price and get an online approval decision.