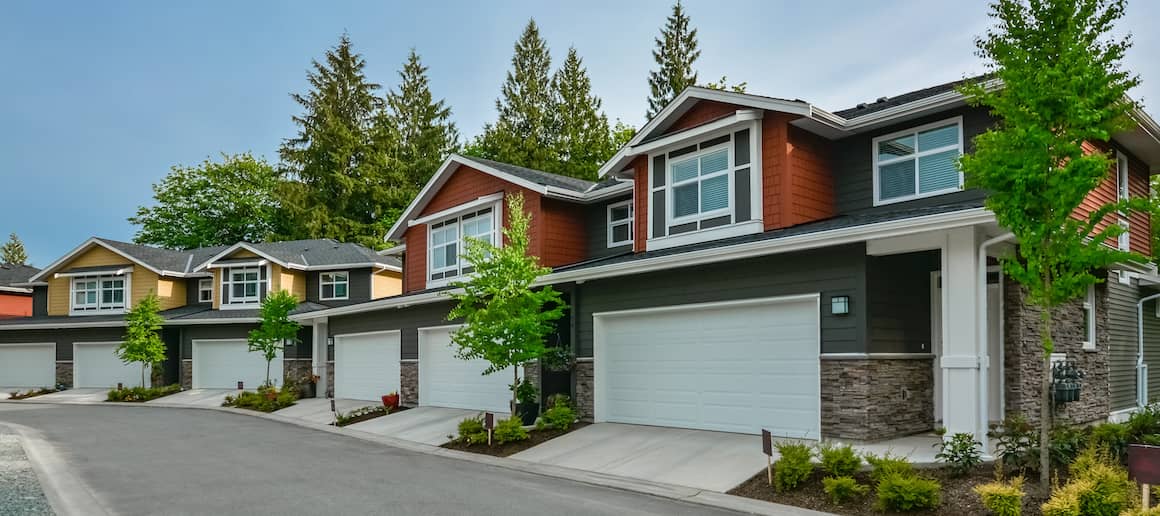 How Much Does It Cost To Build A Duplex?
Scott Steinberg6-minute read
April 21, 2023
Share:
How much does it cost to build a duplex? If you want to build a pair of units in order to incorporate them into your portfolio of real estate holdings, it's a question that you'll want to explore.
However, the answer is that it all depends on where you're looking to situate the building, what features and materials you're looking to include, and the local real estate development market. Factors like housing inventory, competition, and property values can also factor into the equation.
Here, we take a closer look at how much it costs to build a duplex – and whether doing so might make sense for you.
What Is A Duplex Home?
A duplex home is defined as a type of residential property that attaches two living units to one another, and places two separate residences under a single roof. Duplexes can be single- or multi-story structures, but the two individual dwellings that are contained within these properties (which essentially pack two units into one home) will have separate entrances.
Most commonly utilized as a form of passive real estate investment, duplexes effectively combine two units into one home, both of which may share an interior wall, floor, or ceiling. But both housing units are effectively separate residences with separate doors, interiors and utility meters.
As opposed to single-family homes, duplexes allow for scenarios in which dual occupancy can be offered, allowing landlords to charge two rents, thereby increasing the earning potential of the property.
Is A Duplex A Multifamily Home?
A duplex is one of many forms of a multifamily home. In general, multifamily structures can take the form of many different types of buildings – some of which may even be situated on different plots of land.
Examples of multifamily home options include townhouses (wherein two families live in one house that is separated by an interior wall) or apartment complexes (a single structure which houses at least five or more common units, and in which residents share common areas).
Other types of multifamily housing include semi-detached houses – single-family homes that share a common wall with another home, in similar fashion to townhouse properties.
Types Of Duplex Homes
There are several different types of duplex homes you may wish to invest in, each differing in cost of a new construction build. Specifically:
One-story duplexes


Two-story duplexes


Side-by-side duplexes
Costs to build a duplex can vary widely depending on the specific features and amenities that you wish to include. For instance, a more high-end, luxury home with added architectural flourishes, higher-quality building materials, and more interior space will naturally be more expensive. Expenses also tend to go up if you wish to build a multistory versus a single-story structure.
As a general rule for anyone pondering building a duplex versus a single-family home, though, multifamily properties such as a duplex will be more expensive to construct. If you're set on owning a duplex but come to realize you can't afford construction costs, you may want to consider using a mortgage to purchase a pre-built duplex instead. This approach can allow you to avoid some of the additional costs that come with building a property while still allowing you to enjoy the benefits of real estate investing.
Get approved to see what you can afford.
Rocket Mortgage® lets you do it all online.
How Much To Build A Duplex: Average Costs And How Prices Can Vary
Currently, the national average cost to build a duplex sits between $285,000 – $537,000, with actual expenses depending on state, local real estate market, and buildout specifications. The average cost per square foot of a duplex build presently hovers between $95 – $220.
Most investors who wish to explore the possibility of real estate development in the duplex market can expect to pay around $388,000 for a 3,000-square-foot duplex property.
Per information from Fixr.com, additional details on how costs tend to vary between average one-story, two-story, and side-by-side duplex builds can be found below.
Duplex Construction Costs
● National average cost: $388,000
● Average range: $285,000 – $537,000
● Minimum cost: $142,500
● Maximum cost: $1,100,000
| | |
| --- | --- |
| Price per square foot | $95 – $220 |
| Average total cost | $285,000 – $537,000 |
| Average one-story duplex build cost | $95 – $135 |
| Average two-story duplex build cost | $110 – $180 |
| Average side-by-side duplex build cost | $130 – $220 |
Labor Costs
Anyone wondering how much it costs to build a duplex will need to factor the costs of labor into the equation. Sample hiring expenses that you can expect to pay for here include:
Architects


Contractors


Carpenters


Excavators


Plumbers


Electricians


Painters
Material Costs
Of course, you can't construct a duplex without acquiring building materials of differing types for use in the creation of these housing units either. Sample material costs associated with building a duplex include, but are not limited to:
Wood


Foundation


Flooring


Drywall


Windows and doors


Roofing and siding


Electrical parts


Plumbing


Appliances and systems


Paint


Furnishings
See What You Qualify For
Congratulations! Based on the information you have provided, you are eligible to continue your home loan process online with Rocket Mortgage.
If a sign-in page does not automatically pop up in a new tab, click here
Other Cost Factors To Consider When Building A Duplex
Not all expenses associated with building a duplex are apparent at first glance. Here are several other factors that you'll want to keep in mind and take into account as you consider if constructing a duplex is the right choice for you.
The Area You Live In
As with any other form of real estate, prices associated with building a duplex can be impacted by state, region, neighborhood, community and local real estate market. By way of example, certain cities are more expensive than others, and urban areas are often more expensive to build in than rural locations. A variety of external factors such as the type of community that you live in, the current housing market, demand for duplex or rental housing, and other variables can impact your bottom-line costs.
The Cost Of Building Materials And Labor
Like many aspiring investors, rehabbers and real estate developers have noticed lately, prices on building materials and labor are trending upward. Rising costs (often fueled by rising demand for high-quality materials and skilled labor) can also lead to rising expenses associated with building a duplex. Note that demand for labor and material can fluctuate greatly between individual markets and may be higher or lower at certain times of the year.
The Size Of The Build
In keeping with other forms of housing, the larger your duplex buildout is, the higher that associated building costs tend to be. Different styles and structures of building can also cost more than others, and expenses can further be impacted by how much land needs to be purchased and the terms of the land loan. Adding additional features like garages and sheds can also add to the expenses generated by building a duplex as well.
The Number of Rooms
Similar to single-family homes, the more rooms that you wish to add to a duplex, the greater the costs will be. You can also expect to incur further expenses for adding additional walls, windows and doors. Any interior flourishes or amenities that you wish to introduce will cause the budget behind these projects to increase to boot.
Should I Build A Duplex?
A duplex home build is often well worth the investment for real estate developers and armchair investors hoping to increase their rental income. Some factors that you may wish to consider as you weigh whether or not to build a duplex include:
Pros
Duplexes present a great real estate investment opportunity


Ability to minimize risk and maximize return by collecting multiple rents


New high-end homes can bring in higher rental income and lower tenant turnover


Flexibility to live in one side and rent the other, or to fully rent out both sides
Cons
Higher cost to build than some single-family home options


Building permits will be required for construction and use of the units


Cost to acquire and clear the land or conduct demolition


Cost to furnish and upkeep multiple units
Remember, if the bill for a new construction duplex is too large for you to foot, financing a duplex that's already built could be your best option. By buying a pre-built duplex, you'll also be able to profit from your investment sooner than if you were to build a new duplex, since the construction process takes a significant amount of time.
Take the first step toward buying a house.
Get approved to see what you qualify for.
The Bottom Line: Building A Duplex Can Be A Costly Investment
The cost to build a duplex is generally higher than to build a single-family residence. But these costs can often quickly pay for themselves by helping you generate more rental income or allowing you to reside in a unit that's closely situated to a rental property for convenience's sake.
Myriad expenses such as materials and labor are associated with building a duplex, some of which can vary extensively by market, region and even the time of year. But with a little upfront planning, it should be much simpler to determine how they fit into your overall investment plan and budget.
If you're interested in owning a duplex and are considering purchasing one that's pre-built, the Home Loan Experts at Rocket Mortgage® can help. Start your mortgage application online today to see what your options are.
Get approved to see what you can afford.
Rocket Mortgage® lets you do it all online.
Related Resources
Viewing 1 - 3 of 3