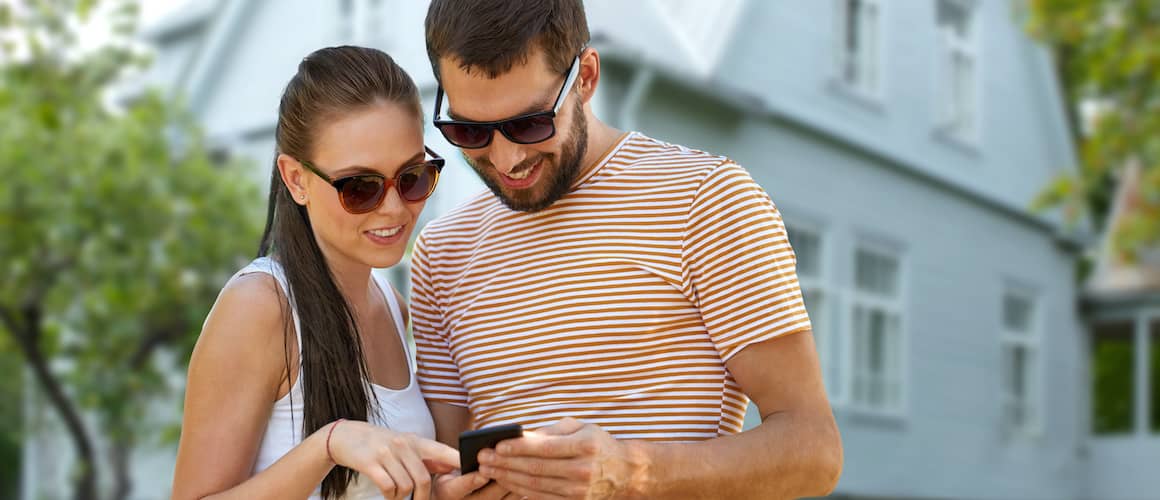 The Best House Hunting Apps For Your Real Estate Search
Miranda Crace6-minute read
May 14, 2021
Share:
Whether you're looking to buy a house, rent an apartment or invest in commercial property, the best way to peruse the market is through a real estate app. Thanks to technology, house hunting these days is literally at your fingertips, and it's easier than ever to buy a house online. All that's standing between you and your dream property is a swipe and click.
Just remember that not all home buying apps are created equally, and features vary. So before you download the first app you see, check out this list to find the best option for your specific situation.
What Real Estate Apps Do
Real estate apps have completely streamlined the house hunting process. Not only do you now have on-the-go access to a huge database of real estate listings, but you can filter your search and narrow your results to pinpoint anything from location to price range to square footage. You can also find a real estate agent or open houses, use mortgage and home affordability calculators, and much more.
Plus, listings are typically loaded pretty quickly, so you're able to see homes right when they hit the market.
You can download and use most real estate apps for free on your phone or tablet whether you're on Android or Apple iOS. If you're a seller, some apps may charge you a listing fee – usually about 1 – 3% of your home's total cost.
The Best Home Buying Apps Of 2021
While most real estate apps have similar main features, like market listings, agent referrals and educational content on everything from mortgages to market updates, for this article we chose apps that stand out for their unique features and positive reviews.
Here's a quick peek at our top picks:
Rocket Homes®
Loopnet
Zillow
Xome
Homesnap
Trulia
Take the first step toward the right mortgage.
Apply online for expert recommendations with real interest rates and payments.
Best For Neighborhood Trends: Rocket Homes®
With the Rocket Homes® Real Estate app, you can search continuously updated home listings, get connected with highly rated and verified partner real estate agents who specialize in your local market, access a free TransUnion® credit report with updates every 7 days and more.
Why We Like It
The Rocket Homes® Neighborhood Trend Report gives you key location insights, like how many homes are for sale, how many have sold in the past month and the median home sale price so you can make smart decisions about the investment you're making.
What People Are Saying About It On The App Store
"I absolutely love the idea of keeping an eye on my credit score without being bombarded with credit card offers."
"Have used many different home searching apps but I think this is the best one!"
Best For Commercial Property: Loopnet
Loopnet helps investors find the ideal commercial property for their next venture with hundreds of thousands of property listings, detailed property reports with videos, satellite images, street views and advanced filters for an exacting search.
Why We Like It
You can stay up to the minute and ahead of the game with listing alerts for new properties as well as any changes to a property you have in your saved searches or favorites feature.
What People Are Saying About It On The App Store
"I love how comprehensive this app is and how much information each listing has."
"I use this app to search for unique investment opportunities. It presents a convenient interface to see what is available around the U.S."
"I check it every day, and it is a tool everyone should have in their belt."
Best For House Hunting: Zillow
Zillow has a massive database of listings with constant updates and push notifications for the newest listings. It also features a robust home-value estimating tool called Zestimate®, a sophisticated search filter, 3D tours and access to premier agents.
Why We Like It
Zillow has a self-tour feature for Zillow-owned homes, which allows house hunters to stop by the property at their convenience and simply unlock the house with the app. No need to schedule a showing – just swing by and let yourself in.
What People Are Saying About It On The App Store
"It is the one app I go to on almost a daily basis for second home and vacation condo shopping, or just to look at my dream homes in new areas."
"I really love Zillow and have turned to them for nearly a decade now. They make it beyond easy to search for a home or vacation rental."
"I love using the Zillow app and find it to be very helpful and intuitive in most cases."
Take the first step toward the right mortgage.
Apply online for expert recommendations with real interest rates and payments.
Best For Auctions: Xome
Xome offers a seamless experience from search and discovery through title and closing with over 100 million property listings refreshed every 15 minutes. There's also robust search filtering, new listing alerts and rich location data to help you find short sales, foreclosures and more. Plus, with Xome Concierge, you have support every step of the way.
Why We Like It
Not only do you get access to listings, but Xome gives you access to real estate auctions so you can get a great deal on bank owned or foreclosed properties you might otherwise miss out on.
What People Are Saying About It On The App Store
"This is my favorite app for looking at what's available in any area. The photos are clear and up-to-date!"
"Love the zoom feature in this app."
"The app is very user-friendly and made the home shopping process very convenient and simple. Convenient, because it has an overwhelming amount of resources and information all in one spot. Simple, because you don't have to be an experienced home buyer or seller to understand the ins and outs of purchasing a home or selling one."
Best For Ease Of Use And Convenience: Homesnap
House Finder by Homesnap allows you to snap a picture of any home and get instant home value estimates, photos, school ratings and more. Plus, it has sophisticated search functionality, robust map layers with everything from school zones to your commute and a built-in private messaging feature.
Why We Like It
Homesnap is optimized for iPad, Apple Watch and Apple TV so you can access home listings wherever you are and even share on the big screen.
What People Are Saying About It On The App Store
"My favorite part of this app is it's very accurate and it gives you a map of the surrounding of the house that you are looking for and actually gives you all the houses that are for sale, sold, contingent and under contract."
"This app has so many great features you will not find on any other home search app."
"Homesnap is kept up to date constantly so that you don't miss any opportunities when buying or selling your home."
Best For Apartment Or House Rentals: Trulia
Trulia Apartments and Homes For Rent offers easy access to rental properties with a simple to navigate search feature and map views. There's also extensive neighborhood information that includes real resident reviews and a collections feature that allows you to browse a variety of properties in a new way.
Why We Like It
With their 1-Click Request, you can contact landlords and property managers in just one click. It's a fast and simple way to start the ball rolling on the rental process.
What People Are Saying About It On The App Store
"I've been using this app for about 2 years for three different moves! I love using the Trulia app because it's so easy to use and extremely helpful when finding a place."
"This is a very well-designed app!"
"I definitely love using this app. Having access to the assigned schools is my favorite feature and this app gives you a general idea of the neighborhood ... little aspects that you may not have even considered like if you would feel safe at night to walk about."
Final Thoughts On The Best Real Estate Apps
If you're looking to buy a new home, invest in some commercial real estate or even find an apartment, apps bring the entire real estate market into the palm of your hands. Home buying apps have revolutionized the way people research property. They've made it convenient and simple to streamline your search and quickly find only those properties that meet your exact criteria.
We hope our list helps you tick off one of the first few boxes on your house hunting checklist. And when you're ready to buy, make sure to speak with a Home Loan Expert to ensure a smooth and positive home buying experience.
Take the first step toward the right mortgage.
Apply online for expert recommendations with real interest rates and payments.