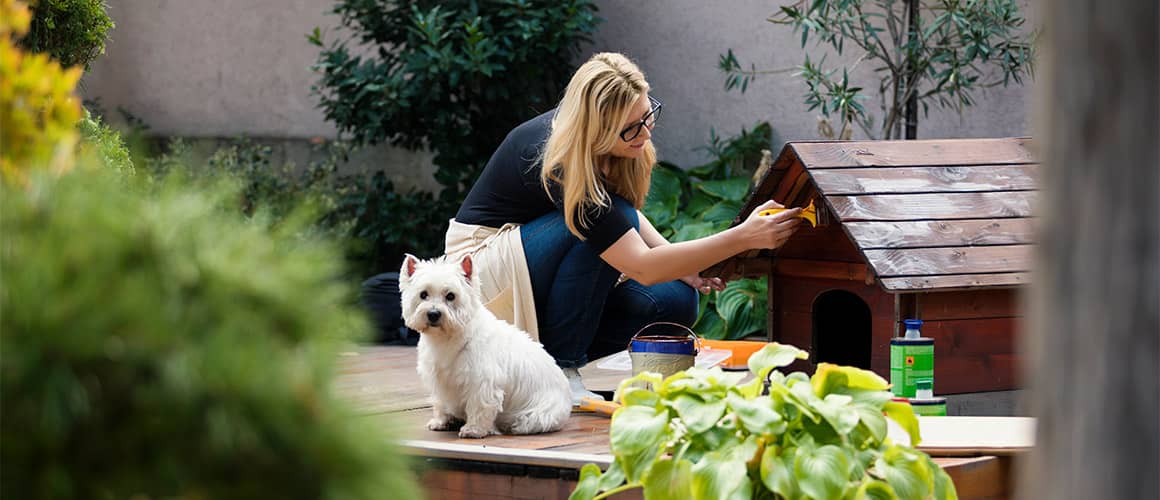 Barkitecture: 5 Doghouse Designs For Your Posh Pooch
4-minute read
April 05, 2022
Share:
Welcome, all dog lovers and intrigued designers, to the new trend that combines design and pets: barkitecture. This trend, also known as "animal-first architecture," is perfect for homeowners who enjoy pampering their pets. Barkitecture is all about creating luxury doghouse designs that pair well with the rest of your home.
If you recently purchased a new house and want to make your furry companion feel just as at home, build a customized space for them to relax and enjoy.
What Is Barkitecture?
Your mood can be heavily influenced by your environment, and it's possible your pet understands that feeling as well. Barkitecture is a type of architectural design and style that puts the needs of your dogs first, while still being aesthetically pleasing.
The most important step is to assess the materials and location of the doghouse. That way you can think of how you'll design the roof and walls that would cater specifically to your dog.
Think of insulation, ventilation and maintenance. You also want the design to fit in with your own home, so whether your design style is modern or contemporary, match it with your furry friend's house.1
The graph below reveals the increasing interest in custom doghouse design in the last year. Don't worry, it's not just you who's interested in building your furry friend their own luxury abode.
5 Custom Doghouse Designs
Giving your doghouse a bit of extra TLC can be as simple as adding a new porch or a fresh coat of paint. However, you can always take it a step further by adding some barkitectural design in the mix. Get ready to unleash the inner designer in you as you peruse through these stylish puppy pads.
1. Groovy Pad, Man!
Inspired by the design era of the '50s and '60s, this doghouse is perfect for a home needing some retro mod flavor. This one has a butterfly roof, distinct bohemian elements and an open deck to maintain ventilation.
The one above keeps it classic with a nostalgic color palette, but you can play up the color depending on your home's color scheme and style. This doghouse has wheels underneath it, making it easy to move around when cleaning up or if your dog needs a change of environment.
Design Tip: Use a green roof, like the one above, to help regulate inside temperatures.
2. Baywatch Alert
Calling all beach lovers and coastal homeowners – this is the perfect doghouse for you! Inspired by a lifeguard tower on the beach, this modern oasis is a good fit for our smaller furry friends. This is a great design if you're looking to add a doghouse into your indoor living space, as it won't take up much space. Plus, with its sophisticated looks, it can serve as a piece of art rather than a simple dog bed.
Design Tip: Make your doghouse a 2-in-1 by placing it next to a couch end and using the roof as an end table to keep books and drinks.
3. Midcentury Modern Mansion
If you're looking for a doghouse that can make a statement, here it is. This doghouse combines modern architecture with comfort – complete with clean lines and shaded outdoor space for your pup to lounge. If you look closely, this one even has a window your dog can use to check out what's happening outside while they take a nap inside.
This house uses a simple color scheme to blend well with the rest of the home and outdoor space. To elevate the look of the home, you can add succulents and other pet-friendly plants into a built-in flower box.
Design Tip: Add artificial turf to the floor of the house to help keep your pet cool and comfortable when they take their afternoon doze.
4. Sturdy Log Cabin
If you want to keep your design simple but strong, this cabin-inspired doghouse may be your cup of tea. We love the details in this wood pallet lodge, from the porch railings to the lower-pitched roof. With this design, you can make it as large or as small as you want, depending on the size of your pet and how many you have.
Design Tip: Seal the wood surfaces to add shine and protect against weather and water damage.
5. Ultra Modern Abode
This geometric metal-infused dog home is too cool not to share. It's simple in design but mixes different materials and colors for a contemporary look. With its uncomplicated layout, this is a great design for a dog that doesn't need a bunch of fluff to feel content.
Design Tip: Install wheels on the bottom of your doghouse for easier maneuvering, whether you're doing yard work or want to change the scenery for your best friend.
Take a peek at the infographic below to learn some more easy tips on how you can upgrade your doghouse for your four-legged friend.
A new customized doghouse for your pet can be a special treat to them but can be a bit costly depending on your dream designs. Look at refinancing and saving up to put toward a new abode for Fido.
Source:
1Giovanni Scippo, Director at 3D Lines
Get approved to refinance.
See expert-recommended refinance options and customize them to fit your budget.
Related Resources
Viewing 1 - 3 of 3