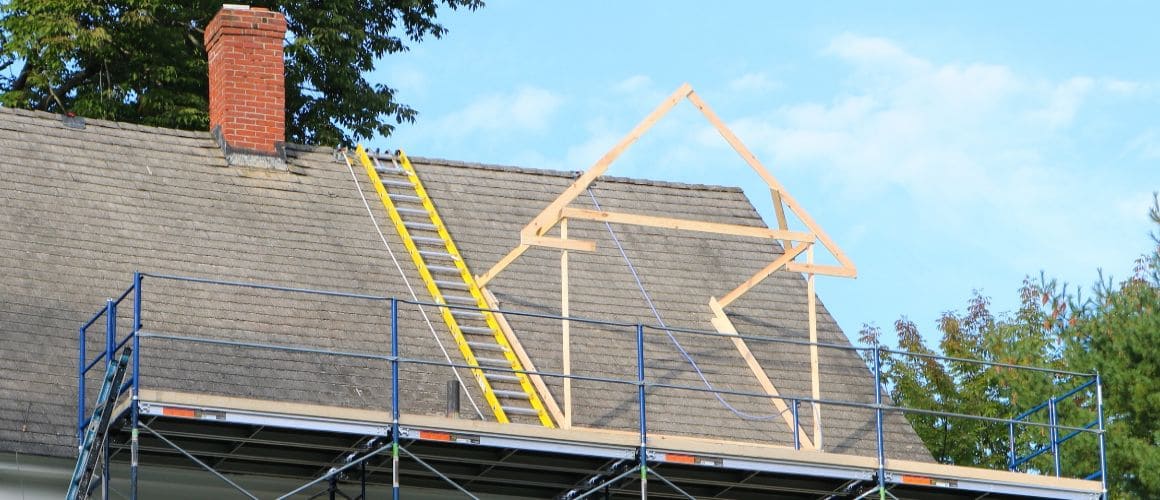 Adding An Addition Onto Your House: What You Need To Know
Patrick Chism12-minute read
February 27, 2023
Share:
Disclosure: This post contains affiliate links, which means we receive a commission if you click a link and purchase something that we have recommended. Please check out our disclosure policy for more details.
When it comes to home additions, it can be tough to know what you don't know. How will an addition affect resale value? What are the building codes involved? Can you DIY it or do you need to hire a contractor?

Whether you're thinking of adding on a second floor, or just putting in a cute dormer, all of these are questions to consider before adding on to your living space.

In this article, we'll give you starter information that will be useful if you're thinking about making a home addition in the near future.
Should I Add An Addition To My House?
Whether it's a small bump-out addition with a remodel, or a full-blown addition project, house additions are investments for homeowners. If you do not plan on moving anytime soon, you have more incentive to make it yours. The value you receive from a home improvement project can be enjoyed for many years to come.
However, if you sell your house in the future, you need to think about the resale value. Make sure the add-on is cost-effective. If the value of your home increases with a tasteful addition, investing in your home could have a high return on investment.
Consider these three questions before starting a home addition.
How Much Does A Home Addition Cost?
How much money an addition costs depends on the variables of your home and what you want. The bigger the project, the more money it will cost. If you're hiring a contractor, you may see a wide range among different contractor estimates. You may be able to DIY the project, but you must be confident in your skill and willing to sacrifice your time. If you end up needing some financial help, there are some strategies you can use, including a cash-out refinance, construction loans, home improvement loans and more.
When it comes to making home additions, homeowners need to set some limits for themselves. It's easy to say you want to double the square footage of your home, but is that something you can afford? Are you able to add a sunroom and still maintain your home's value?
"How much?" is a broad question that covers a lot of ground. It can cover a very elementary question like "How much do we want to spend?" or "How much room do we want?"
"How much?" can also cause an answer you might not want to hear. Questions like "How much do we need this space?" or "How much are we willing to put up with the dust, noise and strangers working on our house?" or "How much time will it take?"
When you're honest with yourself about the answers to the question of "How much?," you'll have a better idea of your needs and expectations, and you'll lay out the groundwork for the upcoming project.
A home addition can require a big investment of your time and money. It can also disrupt the comfort of your home for a long time.
Get approved to refinance.
See expert-recommended refinance options and customize them to fit your budget.
Is This A DIY Project Or Will You Hire A Contractor?
The next big question to ask before you pick up the phone or head to the hardware store is "Who is going to do the work?"
You can go a couple different ways with this question. First, you can take it on yourself. With that, you'll have to make sure you, and anyone working with you, has the skill and know-how to do the home addition right. You don't want to get started on a project to then figure out you're in over your head.
Imagine finding out you bit off more than you can chew after spending $8,000 on materials you can't even use. Doing it alone means you're on the hook for every mistake you make. What's worse, your mistakes might not come to light until you flip a light switch.
Before you begin, make sure you know your limitations and when you need help. If you can frame and hang drywall, but the thought of wiring makes your skin crawl, why not hire out a contractor? If you have a friend with electrical experience, maybe you could get them to help you out for some free pizza or at a discount.
Save money by hiring out contractors and doing some of the work yourself. Contracting out a job is what a contracting company does when you hire them. Oftentimes, contractors will add a markup to the subcontractors they hire. You're paying for the recommendation of your contractor, but you're also paying for the contractor standing by the work their subcontractor performs.
However, if you don't know a hammer from a hole in the ground, you're better off hiring a general contractor outright. On something as important as an addition to your home, get professional help. The right contractor can build your dream addition. And their work may up your home's resale value.
How Do You Find A Reputable Contractor?
It's all about who you know. If you don't know anyone well-versed in the industry, ask your family, friends and co-workers who've had similar work done.
If they're thrilled with the work they had done, they'll be happy to tell you all about it. On the other hand, if they had an awful experience, they'll be happy to tell you all about that as well.
One popular option is a contractor grading service like Angi.com, whose model includes paying a subscription fee for their grading. If a monthly fee provides you peace of mind when hiring a reputable contractor, go for it.
If the idea of paying a fee to have someone rate a company makes you squirm, there are several other options. HomeAdvisor.com, Houzz.com and ImprovementCenter.com all follow the Angi model, except they offer it for free. All services offer grades based on user reviews and support themselves based on advertising bought on their sites, some of which can be contractors paying for a call-out in the listings.
Whichever avenue you choose, make sure you talk to several contractors for their ideas and estimates before any work begins. Also make sure they're insured, licensed and bonded to avoid any liability, tax or quality issues.
Home Addition Ideas
Interested in adding square feet to your home, but not sure where to start? Or maybe you know the addition you want to make but aren't sure what it entails.
According to HomeAdvisor.com, the average cost of building an additional room onto your house runs $80 – $200 per square foot. The discrepancy depends on the layout, your home's style and the materials used.
Look at some of the most popular extra rooms and get some home addition ideas.
Kitchen Addition
The kitchen can make or break a home. Many homes have a kitchen that's too small or one that's poorly designed. If you like to cook and entertain, having a big, well-thought-out kitchen is a dream.
Gather ideas of what you would like your kitchen addition to look like. You can search kitchen blueprints online and try to mockup one of your own. If it's in the budget, you can hire an architect to put your dreams on paper.
When considering a kitchen addition, determine whether you want to replace your appliances and cabinetry. These are two costly factors, but if you forgo them with your new addition, your kitchen may not flow and may feel segmented or incomplete.
Mudroom Addition
A mudroom can add many benefits to your home. They're a great place to store shoes, coats and backpacks. They function well as an informal entry to the home. They're easy to clean, making it a good place to bring in dogs with dirty paws or kids with dirty boots.
Mudrooms benefit from benches with drawers, built-in shelving and lockers or cubbies. Depending on how you're using the room, you may want a utility sink to make cleanup quick.
Mudroom additions range in cost based on size and materials used. For a small 6x6 room, costs are going to average around $4,000. A large room can cost as much as $12,000. Keep in mind this is just for the room. Any benches and storage will cost extra.
Sunroom Addition
A beautiful sunroom can elevate even the most modest home. These rooms let in tons of natural light. Whether you're thinking of enclosing an existing porch or building off your front entryway, a sunroom brings a lot of light into the home.
Sunrooms come in a few different varieties, including three-season sunrooms, four-season sunrooms and solariums. Three-season sunrooms are not well-insulated and cannot be used in the coldest months of the year.
Four-season sunrooms are well-insulated and are functional rooms throughout the winter. They're more expensive than three-season varieties, but you'll get more use out of them.
A solarium is a type of sunroom made entirely of glass. Because of the thermal technology to keep the room insulated, solariums tend to be more expensive than a four-season room. However, they can double as greenhouses for flowers that require full sunlight.
Bathroom Addition
A major area to increase the value of your home is by adding on a bathroom. You could convert a closet or the area under the stairs into a water closet, or you could dive in and add a whole room entirely. Obviously, the more you add on, the more it will cost.
Before you go planning your new bathroom, you need to look at your piping. Do you have existing water and waste piping near where you want to put the addition? If you're putting the bathroom in an unfinished basement, the piping is right there.
But if you're looking at putting in a bathroom in an addition on the back of the house, you'll probably have to pay more to run pipe. Costs like these can accumulate quickly, especially when you start adding the cost of fixtures.
The good news is that, even if a bathroom addition is costly, if done right, it can greatly increase your home value. Just think how much more appealing a two-bathroom home is than a single bathroom home. If you've got growing kids or frequent houseguests, you understand the reason another bathroom is valuable.
Home Office Addition
With more people working from home, the value of a functional home office is increasing. Yes, you could convert a spare bedroom or a section of the basement, but if you don't have either of those to work with, adding on an office is something to think about.
If you need a space with limited distractions where you can work, you need a home office. For small business owners working out their home, a home office may be a cheaper alternative than renting or buying a commercial property.
To add a home office to your house, your cost will go up depending on the size of the room and the cost of any fixtures. If the office you build could also be a bedroom, you could list it as such if you sell your house. This will increase your resale value.
See What You Qualify For
Congratulations! Based on the information you have provided, you are eligible to continue your home loan process online with Rocket Mortgage.
If a sign-in page does not automatically pop up in a new tab, click here
Smaller Additions
There are a couple smaller additions you can make to increase the charm and value of your home. These small additions cost much less than adding on a whole new room. They can also open your space, making it feel larger than it is.
Dormer Addition
Adding a dormer onto your second floor is a great way to bring in light and expand your usable space. Depending on the size, dormers can cost $2,500 – $20,000, with smaller window dormers running about $4,000. Costs vary depending on your type of house, total square footage and the pitch of the roof. For dormers, hire a contractor experienced with roofing.
Bump-Out Addition
Bump-out additions allow you to add on a small space without having to pay for new foundation work. These additions extend out over the edge of the house and can add extra space onto a current room.
Depending on what room is attached, the space of the bump-out could be used differently. In kitchens, popular bump-out choices are to add a bench and window for a dining room or to add a pantry. If you're adding a bump-out to a bedroom, it could be used as a walk-in closet. With a living room, a bump-out can be used for a built-in entertainment center.
Bigger Additions
If you're looking to really expand your home, you could put in a huge addition. These additions will cost a lot more and could be riskier if not done right. But if they work, they will add significant value to your home.
Second-Story Addition
Adding a second story onto your current home is a huge step. If it works, it could nearly double your home's square footage, turning your one-story into a two-story home. You could add on a bathroom and an extra bedroom in the new space or build out your dream master bedroom.
A second-floor addition is expensive, costing $100 – $300 per square foot. A second-floor addition is the perfect way to build up, not out. This could help if your property lines are tight.
Since a second-story addition is a complex process with a high margin for error, make sure you hire an experienced contractor. Check their references on similar projects, fully vetting them before hiring them.
Garage Addition
If your current home is garage-less or is in desperate need of more storage and workspace, adding a garage onto your home can greatly increase its value. You must consider where your current driveway is and how the addition will sit.
A freestanding garage is more expensive than an attached one, but can present fewer construction challenges. A freestanding garage keeps dust and smells away from the home, but convenience of an attached garage makes going to the garage from the home easy. This transition is even more of a plus with bad weather.
As with other additions, make sure the garage addition blends in with the architecture of the current home.
The Bottom Line
Before you begin the exciting adventure of a home addition, make sure you secure the proper financing for what you'll need to complete the project. This is especially important since the addition will likely increase the overall value of your home.
Ready to start your home additions? Apply for a cash-out refinance today. You can also give us a call at (833) 326-6018.
Get approved to refinance.
See expert-recommended refinance options and customize them to fit your budget.
Related Resources
Viewing 1 - 3 of 3